A wonderful review on MousicOff.com for my collaboration with Juan Pablo Esmok Lew, during the 2020's LockDown
"Il periodo che stiamo attraversando conferma che la distanza non può nulla contro la forza della Musica: un bell'esempio in questo tango chitarristico a due. Alle rispettive chitarre classiche due artisti da due paesi differenti e lontani: l'argentino Juan Pablo Esmok Lew e il nostro connazionale Simone Alfonsi."
A review of a beautiful afternoon between music and poetry at "Palazzo Del Granarone" in Cerveteri on 5 October 2019, for Baraondanews.it
" Il giovane musicista ha affascinato tutto il pubblico con la sue composizioni e il suo originalissimo Fingerstyle attraverso il quale trasforma il suono della chitarra acustica producendo suggestioni e vibrazioni dell'anima."
Interview about my Solo Project with Robex Lundgreen for Ghgumman.blogg.se
Have any of you played in other bands? Yes…Before I started my solo acoustic project, I have played many music styles in many bands from pop to jazz to rock, but at a certain point I realized that I needed to go in a direction that could better fulfill my expectations as a musician and so I decided to concentrate on Fingerstyle Guitar.
How is it that you started playing music? I feel in love with the guitar at 12, because a found an old guitar at my granparents house… everything started from there…
An article from the "Corriere di Novara" for my concert for "Un Paese a Sei Corde 2018"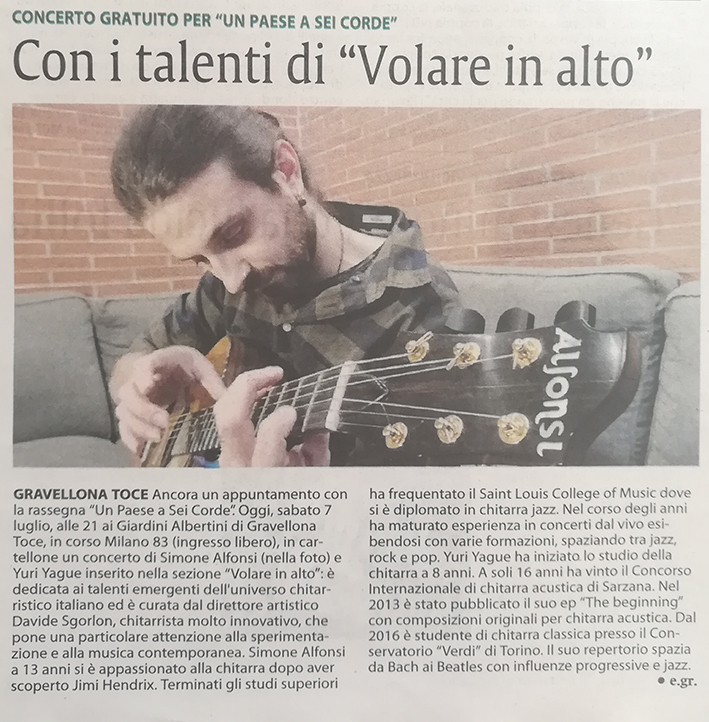 A beautiful interview at the end of the July 7 concert for " Un Paese a Sei Corde 2018 ", with Yuri Yague. Thanks to friends of Fermoimmagine and Associazione Aquario 2012.
A nice review about my performance at "Un Paese a Sei Corde 2018", by Patrizia e Mauro Gattoni for ''La Sesta Corda''.
"E' sempre bello vedere giovani che credono nella musica, nello studio e nel sacrificio che porta al piacere della realizzazione di un sogno. E Davide Sgorlon, curatore della sezione Volare in Alto si conferma scopritore di giovani talenti che sanno dare alla chitarra nuovo slancio e grande passione. In questa calda serata di luglio, ci ha presentato Simone Alfonsi, fingerstyler romano con l'anima rock, e Yuri Yague, poliedrico chitarrista torinese che spazia dal più impegnativo repertorio classico al divertimento dell'acustica. Il lancio di una monetina ha fatto aprire la serata a Simone Alfonsi, l'aria timida dietro agli occhiali e il codino che, in realtà, nascondeva una genialità non comune nell'inventare i titoli per i suoi brani. Un esempio? Poetica Spicciola per Poveri Cristi, Fake Blues n° 1, nato come un blues, ma diventato qualcos'altro, sicuramente molto bello, Odio le Donne che Amano le Scarpe, dedicato alla moglie, in cui pareva quasi di vedere lanci di scarpe volare tutto intorno. Che, oltre alla musica di Tony McManus, ci fosse anche un pizzico di Lina Wertmuller ad ispirarlo? Alternando sue composizioni a tributi ai chitarristi che hanno dato una forte impronta alla sua formazione musicale, ha divertito il pubblico con la sua mite simpatia."